Saint-Jacques chapel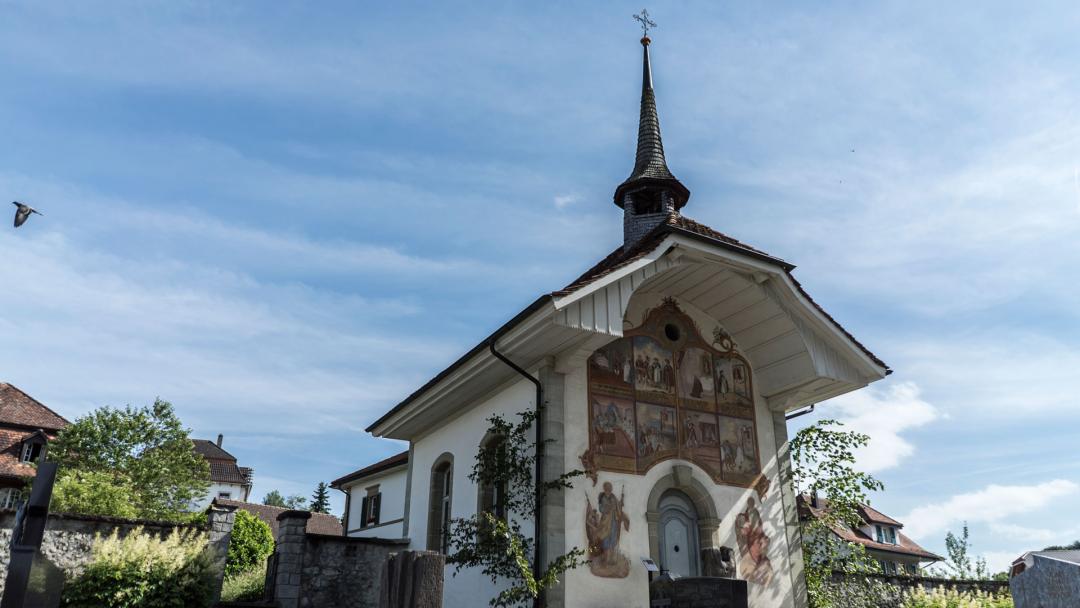 Description
On the route to Santiago de Compostela, the Saint-Jacques chapel in Tavel is adorned with a comic-strip-fresco that tells the legend of the "hanged man unhanged", painted in 1769.
The St-Martin church and its numerous treasures dating from the 16th to 20th century was mentioned for the first time in 1148.

In the neighbouring cemetery, there are two chapels in late baroque style, including the Saint-Jacques chapel built in 1665 to replace an older building. Inside, statues of Saints James, John and Peter (from 1640) adorn the beautiful altar by Jean-François Reiff. There is also a Saint James from 1530 by Hans Gieng, who sculpted numerous fountains in Fribourg.

On the facade, the "miracle of the hanged man unhanged" was illustrated by Jakob Stoll in 1769. This legend, which is known and told in various versions all over Europe, is represented in numerous sanctuaries. The heroes are two pilgrims, father and son, who are heading for Santiago de Compostela. In a hostel, they are accused of theft. In order to spare his father, the son agrees to be hanged. The father, continuing on his way, prays to Saint James. Upon his return, he finds his son alive and confounds the judge.

One of the routes of the medieval pilgrimage to Santiago de Compostela, which leads to the tomb of the apostle Saint James in Galicia, goes through Tavel. Pilgrims from eastern Switzerland, Germany and Eastern Europe travelled along this section.

The confraternity of Saint James, who brought together pilgrims who had completed the journey, commissioned the chapel dedicated to its patron saint. Each year the confraternity, now called the Santiago Group, celebrates the festival of Saint James on July 25th.

The history of the "miracle of the gallows" begins on the left with the top two scenes, followed by the bottom ones. It then continues on the right. In the last image the judge proclaims, "your son is as alive as the chickens I am roasting here"; he then sees the two birds fly away!